to Seeds and Fuses
 – the poetry and other makings of Anne E Cooper
Hey, thanks for dropping by. I'm not big on labels but guess you could say I'm a an artist and activist, educator, dreamer and seeker. I make stuff. Life and art merged with my position as writer-in-residence at the Cressingham Gardens estate and with other residents on the estate we created the book 306: Living Under the Shadow of Regeneration.
My poetry ranges from the classic themes of love and war to those small, often unsaid, interchanges the basis of my collection Touched. Documentary poetry is my present form of choice, my poem essay 21st Century Guernica was described by the late Tony Benn as, "Powerful and deeply moving."
With photography I capture light and colour, line, texture and the atmosphere of place, with an emphasis on the lost, decayed and abandoned. I have exhibited at the Portico Gallery, the Urban Art Show,  and had a solo show with an artist talk at the Salome Gallery, The Poetics of the Everyday. 
I have worked on and off for nearly 20 years on creative projects in the community as a facilitator and project leader; in recent years in mental health and homelessness services including at the V&A, the South London and Maudsley Hospital and St Mungos Recovery College.
In addition I have curated events with spoken word, live literature, dj's, vj's and musicians, honoured to have been joined by many special guests including; Paddy Hill, Brian Paddick, Karen McCarthy Woolf, John Cooper Clarke and Malika Booker.
I ardently believe another world is possible.
Diary
July 2018
Saturday 7th July
Matchgirls 130th Anniversary Memorial Walk on the 130th anniversary of the Match girls strike.
I will be taking part in the walk and the performance after please join us! The aim of the Matchgirls 130th Anniversary Memorial Walk is to celebrate the victory of the Matchgirls over Bryant and May in 1888, commonly known as the Matchgirls Strike, which helped lay the foundations of modern day Trade Unionism.
THE WALK
The 2.5 mile walk will take us from Mile End to Bouverie Street to retrace, as best as possible, the steps taken by the Matchgirls the day after they walked out on strike. So, don those Victorian outfits (see below for details) and join us for a commemoration of this landmark event. There will be an after-walk event in the Fleet Street area and more detail will be posted about this as the event takes shape.
Time: Assemble from 12:00 to leave at 13:00
Meeting Point: Trinity Green (next to Tower Hamlets Mission on Edward Passage Road, Mile End Road)
End Point: Bouverie Street and onto Bridewell Hall for the After Event. Dress code (optional but fun)
Female – long dark dress, skirt/blouse/shawl/apron/boots
Male – waistcoat/grandad collar shirt/baggy trousers/cloth cap/neckerchief/boots
If stuck for inspiration just go on Google Images and search for "victorian working class clothing".
THE AFTER EVENT 
DR ANNA ROBINSON Poet, Lecturer University of East London
LEMN SISSAY Author, Poet, Broadcaster
DR MELANIE REYNOLDS Historian, Author, Associate Lecturer Oxford Brookes University
SARAH WISE Historian, Author, Lecturer City University
NEIL JAMESON Director, Citizens UK
TERRI BELL-HALLIWELL Sculptor, Founder http://www.inVISIBLEwomen.org.uk
IAN WATKINS Salvation Army
ANNE E COOPER Activist, Writer, Photographer, Poet
ROBIN HEAD Matchgirls Descendant, Secretary Somerset NUT
PLUS, we hope to have an exclusive recording from ANDREW CASTLE, Great Great Grandson of Annie Besant, Television and Radio Presenter and former Tennis Professional.
https://www.eventbrite.co.uk/e/matchgirls-130th-anniversary-memorial-walk-tickets-43128736211
Background
On 5th July 1888, 1400 girls and women walked out of the Bryant and May match factory in Bow, London and the next day some 200 of them marched from Mile End to Bouverie Street, Annie Besant's office, to ask for her support. A Strike Committee was formed and rallied support from the Press, some MPs, the London Trades Council and Toynbee Hall. The London Trades Council, along the Strike Committee of eight Matchgirls, met with the Bryant & May Directors to put their case. By 17th July, the demands were met and terms agreed in principle so the Strike Committee put the proposals to the rest of the girls and they enthusiastically approved and returned to work.
The action led to a change in legislation in 1908 the House of Commons passed an Act prohibiting the use of white phosphorus in matches. It led to an increased militancy across the working class, as Lyn Brown notes,  " The received wisdom is that the heroic London dockers of 1889 led the way towards social justice, greater equality and spurred the foundation of the Labour movement. In fact it was London's working class women, a year earlier, who were the vital spark that lit the blaze that showed the way to trade unionism. The men learned how it was done from their mothers, wives, sisters, daughters and neighbours."
https://www.theguardian.com/women-in-leadership/2013/nov/04/women-who-sparked-labour-movement
Sunday 8th July
I will be taking part in a housing, music and poetry event; presenting the poetry of precarity and looking at some home truths, in a positive sense, of working class life. Its a fundraiser for the Grenfell peoples inquiry organised by The Rainbow Collective & Radical Housing Network 1.30- 10.00pm  DIY Space for London  96-108 Ormside Street, SE15 1TF London
exposing the causes of the housing crisis + debunking the myths about immigration and homelessness + learning from our victories
An afternoon of films, discussion, spoken word and music. Bringing together artists and activists from variety of campaigns. Building a community of resistance to overcoming division to fight displacement, dispossession and privatization.
This event is a fundraiser for the People's Inquiry project at Grenfell which is the development of a public archive of accounts and testimonies of the state crimes. It exists to support the processes of justice, not to undermine them and should have the support of reputable charities.
There will also be youth element which will focus on providing a platform for young voices and training them to develop their YouTube channel and their own voice. This project is being run by Dan Renwick the Director of Failed By The State.
https://www.facebook.com/events/464116670695716/
Tickets https://www.eventbrite.com/e/home-truths-at-the-diy-space-tickets-47463741328?ref=eios&aff=eios
And then have a couple deadlines looming for the end of the month so may be taking a bit of time out in poetical editing retreat; it's a dynamic process, shifting between sofa – rewriting or restructuring, desk – making changes on the pc, bed – reading and making changes on the page, lots messy drafts, lots of coffee, rinse, repeat. But given the present hot climes am likely to take some of this outdoors. Note to self: Don't forget to breathe, eat and do yoga! Take a break; Casualty, Poldark, The Hand Maids Tale… GO TO THE PARK!
June 2018
Friday 9th June
Our workshop as part of the Solus and the City project was an immense success and now thrilled to have an opportunity to read poetry of women in the struggle at the all day event as part of this innovative project. It will include songs, poetry and football chants… It takes place at Green Dale Playing Fields, London, SE22 8BB from noon. It's a bit tricky to find. The easiest way to access the shed is via East Dulwich Sainsbury's – 80 Dog Kennel Hill, London SE22 8BB Think of it as an adventure.
This event is part of the Antiuniversity 2018 festival 9-15 June. See the full programme on www.antiuniversity.org
The Solus and the City project is designed by Degenerate Space   exploring how women are expected to provide solidity, structure and sanctuary whilst they paradoxically disproportionately experience unstable positions in housing, work and society. Part of the project consists of the construction of a small Solitude Shed – a structure based on rural mountain bothies – built on an urban site in London.
Accompanying the structure will be a collection of material written from female perspectives exploring themes of solitude, sanctuary, stability and individuality. Degenerate Space write "we invite the public to get together and explore the project and its themes through discussion, writing and traditional women's work songs. Together, we will celebrate the women of the city's past, present and future."
The installation/exhibition will be up throughout the whole of June and is part of The London Festival of Architecture, details here. The LFA is an event which celebrates London as a global hub of architectural experimentation, practice and debate. The festival runs from 1-30 June 2018 with a lively and diverse programme of public events across London this year exploring the them of exploring the theme identity. Full programme https://www.londonfestivalofarchitecture.org/
In addition I will preview a selection of photographs entitled Intervals of  Refuge, that explores visually space as refuge and sanctuary in the urban environment.  To undertake this work I investigated the etymology of the archaic term querencia, derived from the Spanish querer – to wish, want, love, desire, cherish, hence as a verbal noun querencia implies a desired place. The terms refuge and sanctuary suggest semantically a retreat from rather than a retreat to. Yet we actively seek out open space, green space, space in nature as we are part of nature.  In an urban context, spaces exist at the edges of the urban and in the interstices. We can find these spaces if we look for them.
However for women who  have proportionally less income and still bear much of responsibility for child care and other caring responsibilities it is the latter which are more practical, more important to us. And arguably access to spaces of calm, of peace, of tranquility are a therapeutic and spiritual need, not only a pastime but a political act. The struggle to claim them, to use them, at a time when public space is shrinking, the struggle for access to urban space and the urban commons is becoming as relevant as the struggle for housing. The roots of this struggles are ancient, yet in a context of austerity, with hyper gentrification and state led privatization, the very epitome of neo-liberalism these are becoming the struggles of our time.
Saturday 16th June
Reading from 306: Living Under the Shadow of Regeneration and in conversation with Andy Bungay and Colin Crilly, NHS campaigner and Wandsworth Action Against Cuts, on Wandsworth Radio
Tuesday June 19th
Taking in part in this housing event with the Rainbow Collective in Hackney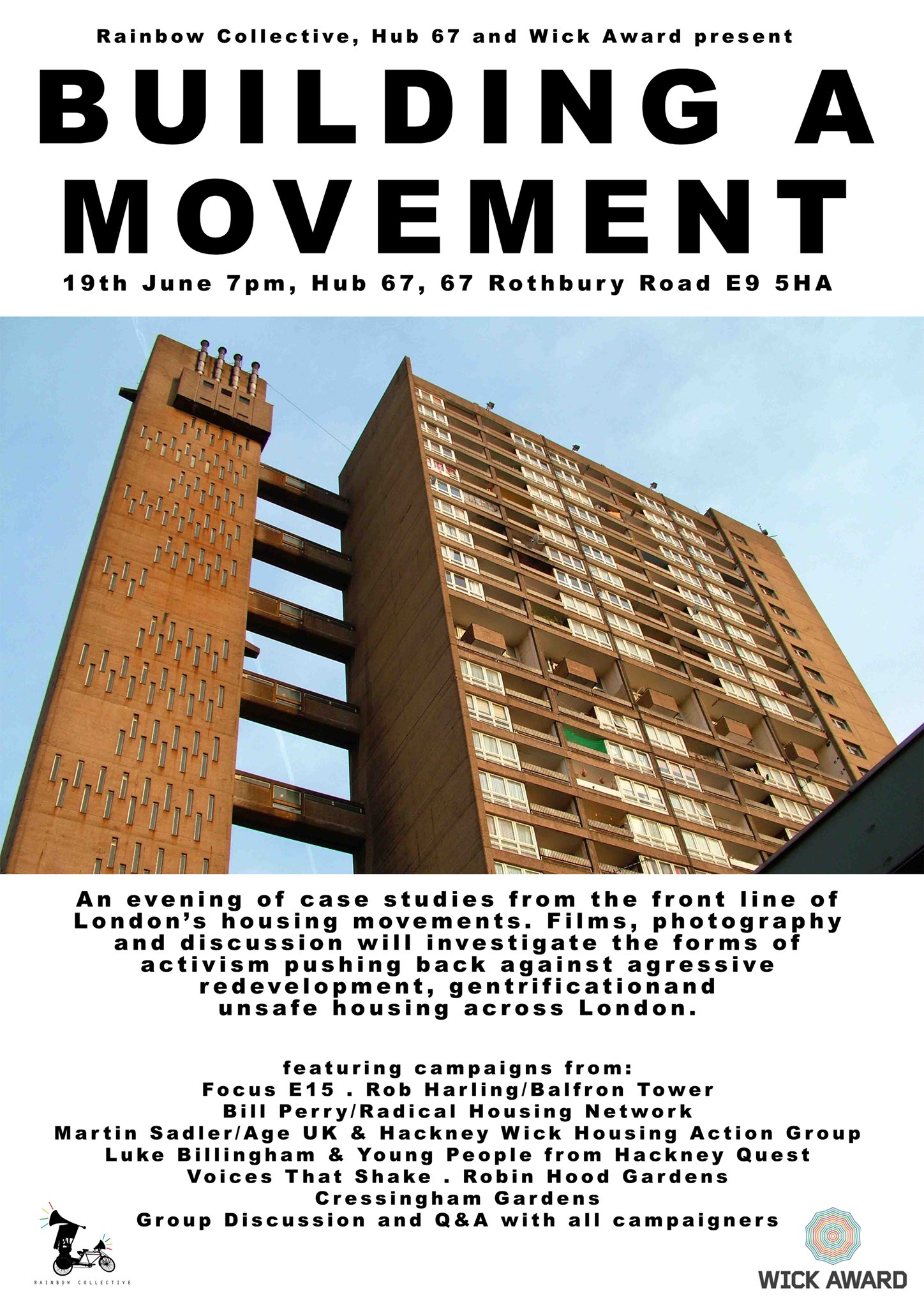 May 2018
Screening of Dispossession: The Great Social Housing Swindle
4th May 
Residents of Cressingham Gardens Estate feature in this film and there will be readings by myself and the residents from the book 306: Living under the shadow of Regeneration at 7.30pm.
Dispossession: The Great Social Housing Swindle explores the agenda behind the neglect, demolition and regeneration of council estates in the U.K. over the past thirty years.The film will be followed by a Q&A with Dispossession director Paul Sng, associate producer Liza McKenzie, barrister Jamie Burton, and myself.
Organised by the Herne Hill Free Film Festival, doors open 7.00pm Cressingham Gardens Rotunda SW2 2QH London
http://www.freefilmfestivals.org/event/dispossession-the-great-social-housing-swindle-2/
20th May
Writing workshop part of SOLUS AND THE CITY
Facilitating a writing workshop as part of the innovative Solus and the City project. The workshop will exploring how different environments influence female / non binary identity, particularly notions of stability – self reliance – safety and solitude and how these are influenced by decreasing public space, precarious working and living conditions, the financialization of leisure and the urban environment.
Solus and the City is a project consisting of the construction of a small 'Solitude Shed' – a structure based on rural mountain bothies built on an urban site in London. Accompanying the structure will be a collection of material written from female perspectives exploring themes of solitude, sanctuary, stability and individuality.
Women are paradoxically expected to provide solidity, structure and sanctuary whilst they disproportionately experience unstable positions in housing, work and society. The shed, complete with writing and a depiction of the building process, will be ready for all to view throughout June as part of London Festival of Architecture 2018.
 Workshop: 2.00–4.00pm Cressingham Gardens Rotunda SW2 2QH London
More info/join/ share https://www.facebook.com/events/2117109715235196/
 25th May 
X Rated: Women Speaking – poetry performance night – Part of the Lambeth Libraries Readers and Writers Festival
Taking part in X-rated. Performers will address themes relating to women at this time. It has been 100 years since the first women were given the right to vote. But after the #metoo revelations how far have we come? Around the world millions of women are still without a voice. Feminist voices are accused of censorship whilst bigots hide behind freedom of speech. It's quite powerful to remember and reflect on what it actually means to be free to speak/vote.
7.00-10.00pm at the Clapham Library, Mary Seacole Centre, 91 Clapham High Street, London SW4 7DB
https://www.eventbrite.com/e/x-rated-women-speaking-poetry-performance-night-tickets-44874138757
https://www.lambeth.gov.uk/sites/default/files/LBL%20Readers%20and%20Writers%20festival%20%202018%20v5%20web%20spreads.pdf
A bit more bio
Born upside down, born blue, 51°57'0″N, 0°16'55″W,  a little after the witching hour, six months before the Cuban missile crisis, guess life was bound to have it bumps. Diagnosed bipolar 34 years later.  Somewhere in between I immersed myself in punk, science fiction and socialism.
I have been an antiwar activist since the Malvinas/Falklands war and was thrust into the world of housing activism following Lambeth Council's unfortunate decision to demolish our homes on Cressingham Gardens.
Grew up in a council house in Stevenage, went to the University of East Anglia leaving with a Ba (Hons) in Development Studies and after some years working in Welfare Rights, graduated with an Ma in Film from The London College of Communication.
Recent endeavors include
A blog style account where I will document a solidarity visit with other trade unionists to Catalonia and reflect on what makes a nation and the nature of and the social forces in the independence movement entitled The Sickle and the Senyera to be launched June 2018 more info
An exhibition at the Portico Gallery, a curated show as part of the Lambeth Open, including work from my Washing Day series October 2017 more info
The publication of 306: Living Under the Shadow of Regeneration June 2017, reissued in September  more info
Review
A small community has now triggered one of the biggest conversations on social housing since Grenfell by Sophia Akram in The Canary
Readings
Contributors to 306 read alongside other special guests at the closing event for Sanctum Ephemeral, an exhibition by by Mark Aitken, part of The Brixton Design Trail,  on Saturday the 23rd September 3.00pm more info
Radio
306 featured on Art Speak hosted by John Flannery in conversation and readings from the book from myself, Sara Adem and Angie Hill broadcast on Soho Radio, www.sohoradiolondon.com Kilburn to Kensal Radio ktokradio.com and Identify Radio www.identifyradio.com  now available on Mixcloud listen here.
more info https://cressinghamvoices.wordpress.com/