to Seeds and Fuses
 – the poetry and other makings of Anne Enith Cooper aka aniseed
Thanks for dropping by. I'm not big on labels, but have been described as "an artist, activist, and author," I'm a dreamer and seeker. I scribble and snap, I make stuff. Life, art and activism merged with my position as writer-in-residence at the Cressingham Gardens estate and with other residents on the estate we created the book 306: Living Under the Shadow of Regeneration.
My poetry ranges from the classic themes of love and death, sex and war to those small, often unsaid interchanges, the basis of my pamphlet Touched.  Documentary poetryis my fave form of choice, my poem essay 21st Century Guernica was described by the late Tony Benn as, "Powerful and deeply moving." 
With photography I capture light and colour, texture and line and the atmosphere of place, with an emphasis on finding the beauty in the lost, decaying and abandoned. I have exhibited at the Portico Gallery, the Urban Art Show,  and had a solo show with an artist talk at the Salome Gallery, The Poetics of the Everyday. 
I have worked for 20 years on creative projects in the community as a workshop facilitator, tutor and project leader. I am the founder of The Way of Words – from the page to the stage.  In recent years much of my work has been in mental health and homelessness services including at the V&A, The South London and Maudsley Hospital Trust and The Recovery College.
In addition I have curated events with spoken word, live literature, dj's, vj's and musicians, honoured to have been joined by many special guests including; Paddy Hill, Brian Paddick, Karen McCarthy Woolf, John Cooper Clarke and Malika Booker.
I ardently believe another world is possible.  I have felt her breath on my face.  She grows around us and beneath us and beckons we deliver her.  Be still, silent, listen, hear her cry out to you from the floods and flames.
Be the river, be the waves, be the ocean, be this fire this time that will wash the world clean of all oppression, violence and injustice. Love is the way and love is our action, solidarity and unity.
Diary
January 2020
a ring of fire
– a lament for Australia January 2020
red skies
red sands
red seas 
people flee to the beaches
huddle in boats
roads are closed and power lines fail 
fuel tanks run dry
the blood red blaze rips through homes and forest
while contracts and denial ensure 
the rape of the rich red earth 
continues 
in Sydney cricket players don black arm bands
as high winds threaten to close the ring
animals die in silence
not knowing
this is what hell looks like
Image: Greece November 2019 by George Natsioulis. Instagram george_natsioulis
December 2019
It is a time for cleaning, clearing and decluttering, dropping the heavy burdens as well as celebration and reflection. That said went into Brixton at the weekend and put my back out somehow so been resting up on the whole in the hope I'll be functional for Alabama 3 at the Brixton Academy on the 21st. It's a celebration of their first album, Exile on Coldharbour Lane and a tribute to founder member Jake Black aka The Reverend D. Wayne Love who left us way too soon earlier this year. 
25 years ago Poets know it and others supported Alabama 3 at a gig in the foyer of the Brixton Academy organised by Mike Urban.  I was at the zenith of the manic episode that led me to my diagnosis about three months later so my memories of the night were pretty trippy. I only have one memory of my performance being heckled by Simon Forbes aka Lenin and managing a retort. 
I also remember leaving there sometime between 4 and 6am with former house mates. We popped into the 7/11, now gentrified out of existence and found they were selling whole cooked turkeys and almost bought one but wasn't sure how to get it back to the squat in east Dulwich where I was residing in retreat from psycho ex. Those were the days….
On my mind also those others who are sadly missed from the congregation; Sister Francesca Love and Errol Thompson;  happy in the hope they are not gonna miss this one and won't be far away. Joining stars Samantha and Nansi Love for this (and makeover special.) It won't be such a late one this time with Hank Love accompanying us.
November 2019
Saturday 9th November
Joining a strong line up of wordsmiths I pulled together at a weeks notice to open the Musicians Against Homelessness gig at the Fox and Firkin, Lewisham High Street, SE13 6JZ
Poetry and Spoken Word from 5.00-7.00 pm. Bands and DJ's from 7.30- the midnight hour. Words and wisdom from
Beady Man is a spoken word artist and political activist from Brixton. He is the resident poet at Reel News. He has written and recorded three videos over two election campaigns for the Labour Party group Momentum. https://www.facebook.com/groups/127866140666115/?ref=share
The Rev Be Atwell of Alabama 3 sure knows the score, he was homeless for 20 years while cutting his creative teeth at open mike nights along side dearly departed Errol Thompson. Be will be performing material new from the Road Man album. Rev. Be. Atwell https://www.alabama3.co.uk/en/coYntainers/profile/known_associates
Dennis Just Dennis loves life and sharing it in lyrics. Dennis featured on The Duel's new Album Waging Waralong with Angie Bowie and Segs Jennings  of The Ruts and recorded England's Dream, written with Pete Ardron, aired at the South Africa World Cup.  http://dennisjustdennis.com/
Hilaire is a writer of poetry and prose, originally from Melbourne.She is one half of London Undercurrents, a project with Joolz Sparkes which led to the publication in March this year of London Undercurrents: the hidden histories of London's unsung heroines north and south of the river https://www.hollandparkpress.co.uk/books/london-undercurrents/
Samantha Love trained as a method actor. She is a poet, dancer, cabaret artist and compère and contributor to the Pavement magazine, a homeless magazine. She writes deep, dark and meaningful with a twist of irony and a touch of welsh wicked. Host at https://www.widgeontheatreboat.com/
Somaye is a poet, percussionist and singer from London of Iranian origin. Described as "Nina Simone meets Bertolt Brecht set to a Middle Eastern beat" she enchants audiences with her voice, music and socially conscious poetry. https://somayeartiste.wixsite.com/somaye
Tunes and visionary lyrics from
Attawalpa, MeU = MeU, Sonic Eyes, The Four Fathers, Children of the Pope
Hosted by  resident Mc's ph7  and Mc Gavin Mysterion/ poet
DJ Decks Ray Spex and Photographer Odette Mysterion
Performances take place on both the main stage with poetry in the garden chalet, weather permitting. Suggested donation of £3 before 9pm/ £5 after
To join, share invite, get involved in the discussion and see full  details here https://facebook.com/events/1417146248434198/?ti=icl
Following the successful launch last month further screenings of We The People in Lambeth, see dates and venues below 
We The People is a short film by Virginia Nimarkoh and Fan Sissoko, made in partnership with The Advocacy Academy, the UK's first campus for young activists, based in Brixton, one of London's most socially active communities.
Filmed over summer 2019, We The People explores themes of activism and community, past and present. It follows six inspiring conversations between activists and grassroots organisers, young and less young, making positive change at a local level. For many people, these are dire times. Meet some who dare to resist.
Original soundtrack by Dubmorphology.
We The People is a Museum of London commission.
Helen Carr and I from Save Cressingham took part in this fascinating project. We haven't seen the edits but hoping to get to a screening or two. It was really great to meet the film makers and activists from the Advocacy Academy. I like the expression, "young and less young". Either way you put it I feel we have so much to learn from each other. It was thought provoking and inspiring. Also featuring
Davida Afriye, Ibtisam Ahmed, Martins Banjo, Ajuub Faraji, Angie Lorena Gomez, Leila Hassan Howe, Ana Laura Lopez de la Torre, Betty Pearl Mayo, Semi Orekoya, Becky Payne, Jemmar Samuels, Heather Seal, Shiden Tekle, Clare Truscott and Malcolm Watson.
You can find more info about Virginia Nimarkoh here, and about Fan Sissoko here.
If you couldn't make the launch of We The People  on the 31st of October, there are alternative screenings taking place across Lambeth see below and RSVP on eventbrite.
Follow @WeThePeople on Twitter to stay updated of further screenings. Share this invitation to anyone who you think may be interested.
October
The main event for me this month is the October Extinction Rebellion event  in London. Events listings and reports can be found here https://rebellion.earth/
The essence of XR is to TELL THE TRUTH about the reality and urgency of the climate emergency we are experiencing and to ACT NOW.
I understand the aim in London is to establish and hold 12 sites. Each has a different theme. Many different groups are holding actions and events at each site.
I hope to be mcing a poetry event at the Love and Rebellion site, Sunday 13th October 2.00-4.00pm @Stage 4, 1 Horse Guards Road, London, SW1A 2HQ, by the Treasury, on the edge of St James's Park.
It's likely to be a fluid situation so arrangements may change, expect a stellar line up of poets, some music and watch this space for any updates…
Here's a map:  https://www.bing.com/maps?&ty=18&q=HM%20Treasury&ss=ypid.YN1029x4555753862839045164&ppois=51.50231170654297_-0.1297300010919571_HM%20Treasury_YN1029x4555753862839045164~&cp=51.502312~-0.12973&v=2&sV=1
Heads Up October is also Lambeth Libraries Black History Month. Lambeth Libraries hosts a series of events with authors, films, music, dance, theatre;  a month long opportunity to learn about and celebrate African Caribbean Heritage and Culture.
The events are being held in partnership with the Black Cultural Archives and many local organisations: expect a selection of brilliant writers and artists, to deliver 2019's Black History Month programme all over Lambeth through October and into November.
More info https://love.lambeth.gov.uk>black_history-month
Thursday 31st October
We The People – Launch and Screening
Thursday 31st October Doors open at 6.30pm Screening at 7pm Q&A at 7.35pm at the Ragged Canteen at Beaconsfield, 22 Newport Street, London SE11 6AY
We The People is a short film by Virginia Nimarkoh and Fan Sissoko, made in partnership with The AdvocacyAcademy, the UK's first campus for young activists, based in Brixton, one of London's most socially active communities.
Filmed over summer 2019, 'We The People' explores themes of activism and community, past and present. We follow six inspiring conversations between activists and grassroots organisers, young and less young, making positive change at a local level. For many people, these are dire times. Meet some who dare to resist.
Original soundtrack by Dubmorphology.
We The People is a Museum of London commission.
Helen Carr and I from Save Cressingham took part in this fascinating project. We haven't seen the edits but hoping to get to a screening or two. It was really great to meet the film makers and activists from the Advocacy Academy. I like the expression, "young and less young". Either way you put it I feel we have so much to learn from each other. It was thought provoking and inspiring. Also featuring
Davida Afriye, Ibtisam Ahmed, Martins Banjo, Ajuub Faraji, Angie Lorena Gomez, Leila Hassan Howe, Ana Laura Lopez de la Torre, Betty Pearl Mayo, Semi Orekoya, Becky Payne, Jemmar Samuels, Heather Seal, Shiden Tekle, Clare Truscott and Malcolm Watson.
You can find more info about Virginia Nimarkoh here, and about Fan Sissoko here.
September
Monday 9th September
Heading up to the launch of Margaret Atwood's The Testaments at Waterstones Picadilly. Looks like it's going to be emotional. Readings, embroidery, placard making, cocktails and speed mentoring no less. A drop in and ticketed events, 400 tickets in total, I believe, for this baby so snap one up. I'm lucky a well organised friend sorted this out for me.
More info: http://margaretatwood.ca/
Had a chat with Reuter's! I kinda wondered why the made a beeline for me, maybe thinking who's that old bird, was it the hat? Or the unseasonal coat? Ticked some box somewhere. Man the camera adds pounds don't it! Told them ima poet, that fell on deaf ears!
https://uk.reuters.com/article/us-britain-women-atwood-interview-idUKKCN1VV1R
Saturday 14th September
Featured on Wandsworth Radio, a community radio show hosted by Colin Crilly and Andy Bungay, a monthly round up of activism with music. Will taking about new developments on Cressingham Gardens, throwing in some poetry and and no doubt we'll touch on resistance generally. It'll be pre recorded as this show goes on LATE!
Watch this space for a link
Friday 20th September
Will be joining Poets for the Planet in Parliament Square in solidarity with the #GlobalClimateStrike Meeting up midday at the Millicent statue if you want to join us.
August
Monday 5th August
In conversation with the amazing photographer, writer and radio host  Naomi Woddis on her show The Two of Us at Reel Rebels Radio exploring poetry,  mental health, spirituality and more.
You can listen in here https://m.mixcloud.com/The_Two_of_Us/the-two-of-us-featuring-anne-enith-cooper
'
The rest of the month I think I'll kick back, top up my tan, sort out my tech while the world appears to spin on hysteria and bad political appointments and I will pray we be delivered out of chaos. And if I start to lose hope I'll listen to B movie by Gil Scott Heron coz, I keep thinking – not my prime minister! 0.13% of the population?  "Mandate my ass! Ain't really a life, ain't really a life, ain't nothing but a movie…" And if you know what that movie is called – and you ain't taken the blue pill, now it's time to unclip. We can all be Neo, go back to the source and let your light shine!
Saturday 31st August
A late addition to the schedule- join us to celebrate winning the Right to Transfer on Cressingham, we have received approval from the Secretary of State to go ahead, subject to a ballot and some legal work. We are holding a bbq picnic, back yard cookout. All welcome, bring a bottle, a blanket, bring the family, there's a bouncy castle.  Food from Clavia Plan and music from the Brixton Chamber Orchestra.
July
12th July 2019
Presenting my paper at this
Monday 15th July
Taking part in an inter generational conversation organised by We The People and commissioned by the Museum of London. The conversation will be filmed and  the resulting film by We The People will consist of a series of conversations about ​activism, community​ ​and legacy​. The film aims to celebrate Lambeth's rich history of community action and look forward with hope to the future.
Myself and another activist from Cressingham Gardens will meet with members of the Advocacy Academy and see where the conversation goes.
We The People expect the film to be edited and ready to screen by the end of the summer, and will host a series of screenings around Lambeth. The aim is for the film become part of the Museum of London's collection, as well as that of Lambeth Archives. There are plans to also make the film accessible to everyone online under a Creative Commons License. It will also be shown and shared online.
Saturday 27th July 2019
Will be joining the Lambeth estate regeneration conference 2.30pm-5.00pm at Cressingham Gardens Rotunda Tulse Hill. I will have copies of the book 306: Living Under the Shadow of Regeneration. We are looking to the future with hope as Cressingham Gardens application for a Right to Transfer has been approved by Kit Malthouse, the Secretary of State. This is not the end of the road but I believe I can say that end is in sight.
June
This month sees me with my head in books preparing a paper to be named Voices, Power and Space (with a subtitle to be confirmed) to present at the Literary London Society's Annual Conference for 2019 ,'"Neighbours of Ours": Cities, Communities, Networks'. I'll be taking some time out on the delightful island of Gozo, taking my notes with me and hoping to pull them into some sort of shape.
May
Holding an event for young people 11- 16 in the Tulse Hill area. We have a great team and looking forward to a great day. Get in touch if you know any young people that might be interested. A parent or guardian MUST enrol their child in advance. Contact me.
April
Saturday 6 April 2019 7.30 pm – 10.00 pm
Bringing anti-war poems to an event organised by The Things That Make For Peace, who are working to provide unity around an anti-war perspective on the 70th Anniversary of Nato , at the Poetry Cafe there will be a talk and poetry, music and song 
https://poetrysociety.org.uk/event/70th-anniversary-of-nato-an-anti-war-perspective-by-the-ad-hoc-committee-for-the-things-that-make-for-peace/
Saturday, 20 April 2019 at 19:00
Joining a stellar line up at Water into Beer in Brockley, 209-211 Mantle Road, SE4 2EW London. A night of poetry and spoken word featuring Tim Holehouse, taking a break from his european tour with Brady Palermo, giving us tales from his 13 years as a nomadic musician,  punk poetry from The Uptown Portrayer Punk Poet and Thomas Vincent and feral feminist vibes from Glittasphyxia. While I hope to deliver poems of love and transformation.
More info https://www.facebook.com/events/407286220075088/?active_tab=about
March
Thursday 7th March
Will be joining Groundswell and The Pavement for the launch of our Women's and homelessness project, on the eve of  international women's day, please RSVP to attend. I will be saying a few words about the From the Ground Up training programme run by The Pavement and Groundswell and delivering some poems on women's history and struggles. It is a great event including a discussion and Q&A with Jane and Diana Rosenthal (Magpie Project) Connie Cullen and Amelia Grant (Shelter) and  Katie Smith (Women's Aid) with music from  Sarah Hough (Groundswell) accompanied by Bene Charles and Hugo Darino.
There will be further presentations and discussion about Good practice with Gill Herd (Solace) Rosa Heimer (Latin American Women's Aid) and Caroline Bernard (Homeless Link) and finally Closing remarks from an MP (yet to be named) and Suzy Solley and Sharron Clint (Groundswell). If you are working in the homelessness or related sector do try and get to this event
Friday 8th March
I have the great honour to be reading poems about women's history and struggles including my poem Don't You Know About the Match Girls? At the opening to a fascinating exhibition: Sarah Chapman, Matchgirl – Story of a Strike Leader taking place Friday 8th- Friday 29th March at the Idea Store Whitechapel, 321 Whitechapel Road, London E1
I will be joining match girl descendent Sam Johnson, Sarah's great-grand-daughter and Toynbee Hall's resident storyteller Sinead O'Brien. All are welcome to join us the preview of this exhibition.
The poem is based on my hearing of the story through the oral history conveyed by my family. Since writing the poem I discovered at the Matchgirls memorial walk organised by Sam that the story of the match girls victory was spread far and wide at the time, including reaching the Lancashire cotton mills where my grandmother worked, solving the mystery of how the women on that side of my family knew the story.
The exhibition, on the first floor landing, brings a personal slant to the famous Match Girls' Strike of 1888, from the perspective of local, working class girl Sarah Chapman of Mile End.
Sarah was among the factory workers who met with the Directors of Bryant and May and courageously argued for better terms and working conditions. Sarah's legacy continues today, but her role has been largely unnoticed until now.
Local History Library and Archives
Exhibition Launch
Friday 8 March, 6:00 – 7:30pm
February
Friday February 15th 7-10pm
Residents of Cressingham Gardens and friends will be getting together for Love Cressingham, because we love our estate, we love our homes, we love our community and we are still here after seven years of fighting regen! Regen = demolition of 306 homes. It's far from over. I'll be the go to on the night I guess, head cook and bottle washer without the cooking. Hope you like our flyer.
Saturday February 16th 2-6pm
Bringing poetic energy to the 15th RECLAIM LOVE. I will be joining drummers, singers, rappers, beat boxers and dj's, a host of loving souls. Reclaim Love is an awesome, annual free pavement street party to celebrate love , to share love and to have a whole lot of fun doing it.
Meet at 2pm at Eros, Piccadilly Circus, around the fountain, to arrive by 3.15pm to take part in the Universal Peace Meditation as we beam love, light, joy and peace all across the Earth. The aim is to we can make this a phenomenal, unforgettable, love- fuelled day in which we light up London with LOVE.
Call out for face painters, stilt walkers, huggers, anything to spread the love Contact  Urtema Dolphin  via the facebook event, see below
Full details https://www.facebook.com/events/2005913162862672/
January
Suddenly springing back to live, I blame the blood moon, after a time briefly touching the dark night and so to action…
Tuesday January 22nd 
Joining Poets on the Picket Line bringing verse and solidarity at the Ministry of Justice where receptionists, security guards and cleaners at the Ministry of Justice (MoJ), represented by United Voices of the World (UVW) and support staff at the Department for Business, Energy and Industrial Strategy (BEIS), represented by Public and Commercial Services (PCS) union, will walk out together on strike demanding the London Living Wage of £10.55 per hour, plus parity of sick pay and annual leave allowance with civil servants.
This is the first co-ordinated strike between a TUC and a non-TUC union and the first coordinated strike between outsourced workers in government departments.
8.00am-2.00pm 102 Petty France, Westminster, London SW1H 9AJ Full details   https://www.facebook.com/events/374959459944404/
Sunday 27th January
Checkin' in with Poetic Justice, which means going north of the river but then how bad can that be in the days of a night tube
Kicking off 2019 returning to The Others in Stoke Newington for a night full of the powerful, thought provoking and expansive spoken word, hip hop and live music performed by some very talented wordsmiths.
Material expressed through the night is usually a mixture of activism, spirituality, awareness raising, philosophy, conspiracy "theories", positive and profound, self/society development and all that stuff.
Poetic Justice events are a drop off point for donations of unwanted clothes and food parcels that will find their way to the homeless via Streets Kitchen.
Top Floor, 6 Manor Road London, N16 5SA 5.00-11pm Full details https://www.facebook.com/events/2005512962875979/
December
Well, I read a lot, not all of it about the end of worlds wrote a bit, what you might call satire, as it occurred to me this is a challenged genre with the word "unicorn" entering political discourse, courtesy of the director of the Open Europe think tank. Aaaand I substituted armageddon movies for my usual fare of dystopian sci fi, the latter not being comforting enough it such uncertain times. What else? There was some midwinter cheer, not the least the news that our estate Cressingham Gardens has won the right to manage the estate. This the result of two and a half tireless years of work by the Cressingham Co-op. This wont stop the regen but can stop the managed decline.  We celebrated. We're good at that.
November
3rd – 10th November
Belatedly autumn makes its appearance and I have a late break to look forward to I will be on a writing retreat Opening Doors to Invisible Worlds at the beautiful Cortijo Romero in Andalucia. More than writing the package includes yoga or tai chi to start the day, Spanish lessons, mountain walks and access to a pool which overlooks mountains and valleys. The venue is mostly off the grid, a challenge and a blessing…
Sunday 11th November
Or shortly after will see the release of Requiem: A Reply  to The Soldier by Rupert Brooke, a poem presented in a short film and dedicated to Veterans for Peace. Brooke wrote his idealist poem and somewhat imperialist work The Soldier before he was deployed to fight in the First World War. It is 100 years since the end of that bitter conflict which took so many lives on all sides. Dubbed the war to end all wars, sadly this has not been the case. The British Army has been deployed to or engaged in 48 conflicts since 1918.
Tuesday 20th November
Poetry from Myself And Brian "Beady Man" Wilson of transformation hope and defiance at the Reel News  film show at the Effra Social, Brixton 8.00-11pm
Films
Save Appledore Shipyard North Devon – campaign to save the only merchant shipyard in the country from closure with the loss of 200 jobs – when the highly skilled workforce could be building the infrastructure for renewables.
BiFab Occupation – workers in Fife, Scotland, occupying their plant that produces wind turbine platforms and successfully stopping it from closing.
Our Power! Just Transition in Richmond – A "movement of movements" in a California city dominated by oil giant Chevron a just transition framework which demands a proper living wage for all, rent controls and curbing police violence.
Cooperation Jackson – Building a social and solidarity economy in Mississippi: moving to a zero waste, zero carbon economy through a plan based on people's assemblies to create a "solidarity economy" of workers cooperatives.
full details here
October 2018
Friday 5th October
I will be joining other artists and activists at NO PLACE LIKE HOME
More info https://www.facebook.com/events/244399402934680/
Tuesday 9th October
I will be speaking at The News Club, a new fortnightly event in Brixton 
More info https://www.facebook.com/events/406979399836551/
Tickets https://www.eventbrite
Tuesday October 23rd
I will be taking part in an inspiring event with an amazing line up of poets; Tamar Yoseloff, John Canfield, Karen McCarthy Woolf, Shazea Quraishi, Sophie Herxheimer, Rishi Dastidar, Rick Dove
At the Tate South Lambeth Library 7pm to explore Shared Spaces, an event curated by poet Molly Rowan
Tickets https://www.eventbrite.com/e/shared-spaces-a-reading-with-lambeth-poets-tickets-51136768451
September 2018
Saturday September 1st
2pm until 3pm Tent City at Fordham Park, Deptford
Speaking on a panel on housing which will cover gentrification and social cleansing, managed decline and the thorny issue of ballots. Sadiq Khan famously declared ballots for regen estates were too complex. Those of us that live on regen estates fnd it quite simple. Our lives, our homes, our right to decide. What do you think? Lets us know. Taking part myself and
Diann Gerson and Heather Gilmore:  Save Reginald Save Tidemill campaigners, 16 maisonettes in Deptford under threat of demolition and Tidemill Community garden
Emily Jost: We Saved Northwold Campaign. Tenants and leaseholders who fought Guinness's demolition plans and won. Now holding them to account re: infill plans, maintenance and preserving social rents
Paul Watt: Professor of urban studies at Birkbeck , Paul has written extensively on regeneration and social housing, neighbourhoods and communities
Martin Williams: Achilles Stop and Listen Campaign, Achilles Street resident and campaigner, area of New Cross under threat of demolition, includes homes, small businesses and community spaces.
The Tent City programme here http://pitpnxd.co.uk/tent-city
Full festival programme here  http://pitpnxd.co.uk/home
Tuesday September 11th
I and other Ann(e)s will be reading poetry at 6.30-8.30pm Barking Library, Barking,  IG11 7NB.  Ok, that's a long drag for us south Londoners but it will be worth it to attend ReadFest 2018, this event is part of a week long festival. A Bunch of Poets called Ann(e) is hosted by Pen to Print, an awesome resource offering free mentoring in Barking and Dagenham to get your book published.  So get lost on the tube and rock up to see guest Poets– Anne Ryland and myself, supported by – Ann Dineen, Anne MacAuley, Anne Welsh and Agnieszka Dryjas
Tickets https://www.eventbrite.co.uk/e/readfest-2018-a-bunch-of-poets-called-anne-tickets-48193160039
Pen to Print https://www.lbbd.gov.uk/pen-to-print-creative-writing-project
ReadFest https://www.lbbd.gov.uk/readfest-events
Saturday 22nd and Sunday 23rd September
Its Open House weekend, a chance to view exceptional architecture across the city, and Cressingham Gardens, which has a deserved place in that pantheon, will be open for business. Had Lambeth Council had its way nothing would be left of our beautiful estate by now but rubble. The first demolition date was 2017 but we are still here and still fighting to stay here.
There will be tours around the estate all weekend and a chance to view inside some of the homes. The Cressingham gardens listing on Open House is here https://openhouselondon.open-city.org.uk/listings/6047
There will be a chance to buy 306: Living Under the Shadow of Regeneration, the book co-authored by myself and other residents. The Cressingham book, as people now refer to it, is now on three continents; in the hands of academics, artists and activists in America, Austria and Australia.
"306 is a vital, lyrical, funny and anguished document of a London community under threat of destruction. The voices here are allowed space to reminisce about life in Cressingham Gardens fondly but unsentimentally."
Toby Litt, Author and Senior Lecturer, Department of English and Humanities, Birkbeck
There will be a chance to watch readings from the book shot by the talented Rainbow Collective in the Rotunda. For the history of how Cressingham Voices, led to the birth of the book see https://cressinghamvoices.wordpress.com/
Save Cressingham Gardens https://savecressingham.wordpress.com/
Open House full list of sites https://openhouselondon.org.uk/
August 2018
Well its going to be a quiet one on the whole I hope but am taking part in a panel discussion of homelessness at The Bylines Festival, the discussion is hosted by The Pavement magazine
UNFETTERED VOICES: HOMELESS PEOPLE IN THEIR OWN WORDS
It will take place on the Sunday (26th August) of this three day Festival at 11.30-12.30 in the Forest Forum.
https://www.bylinefestival.com/forest-forum-18/2018/8/26/unfettered-voices-homeless-people-in-their-own-words
The Bylines festival, in its second year is organised with The Frontline Club and takes place in Pippingford Park, Ashdown Forest, TN22 3HW It's headlined by Pussy Riot and features other guests such as The Slits (!!!) Salena Godden and Alexei Sayle so that's my summer sorted!
More info https://www.bylinefestival.com/
July 2018
Saturday 7th July
Matchgirls 130th Anniversary Memorial Walk on the 130th anniversary of the Match girls strike.
I will be taking part in the walk and the performance after please join us! The aim of the Matchgirls 130th Anniversary Memorial Walk is to celebrate the victory of the Matchgirls over Bryant and May in 1888, commonly known as the Matchgirls Strike, which helped lay the foundations of modern day Trade Unionism.
THE WALK
The 2.5 mile walk will take us from Mile End to Bouverie Street to retrace, as best as possible, the steps taken by the Matchgirls the day after they walked out on strike. So, don those Victorian outfits (see below for details) and join us for a commemoration of this landmark event. There will be an after-walk event in the Fleet Street area and more detail will be posted about this as the event takes shape.
Time: Assemble from 12:00 to leave at 13:00
Meeting Point: Trinity Green (next to Tower Hamlets Mission on Edward Passage Road, Mile End Road)
End Point: Bouverie Street and onto Bridewell Hall for the After Event. Dress code (optional but fun)
Female – long dark dress, skirt/blouse/shawl/apron/boots
Male – waistcoat/grandad collar shirt/baggy trousers/cloth cap/neckerchief/boots
If stuck for inspiration just go on Google Images and search for "victorian working class clothing".
THE AFTER EVENT 
DR ANNA ROBINSON Poet, Lecturer University of East London
LEMN SISSAY Author, Poet, Broadcaster
DR MELANIE REYNOLDS Historian, Author, Associate Lecturer Oxford Brookes University
SARAH WISE Historian, Author, Lecturer City University
NEIL JAMESON Director, Citizens UK
TERRI BELL-HALLIWELL Sculptor, Founder http://www.inVISIBLEwomen.org.uk
IAN WATKINS Salvation Army
ANNE E COOPER Activist, Writer, Photographer, Poet
ROBIN HEAD Matchgirls Descendant, Secretary Somerset NUT
PLUS, we hope to have an exclusive recording from ANDREW CASTLE, Great Great Grandson of Annie Besant, Television and Radio Presenter and former Tennis Professional.
https://www.eventbrite.co.uk/e/matchgirls-130th-anniversary-memorial-walk-tickets-43128736211
Background
On 5th July 1888, 1400 girls and women walked out of the Bryant and May match factory in Bow, London and the next day some 200 of them marched from Mile End to Bouverie Street, Annie Besant's office, to ask for her support. A Strike Committee was formed and rallied support from the Press, some MPs, the London Trades Council and Toynbee Hall. The London Trades Council, along the Strike Committee of eight Matchgirls, met with the Bryant & May Directors to put their case. By 17th July, the demands were met and terms agreed in principle so the Strike Committee put the proposals to the rest of the girls and they enthusiastically approved and returned to work.
The action led to a change in legislation in 1908 the House of Commons passed an Act prohibiting the use of white phosphorus in matches. It led to an increased militancy across the working class, as Lyn Brown notes,  " The received wisdom is that the heroic London dockers of 1889 led the way towards social justice, greater equality and spurred the foundation of the Labour movement. In fact it was London's working class women, a year earlier, who were the vital spark that lit the blaze that showed the way to trade unionism. The men learned how it was done from their mothers, wives, sisters, daughters and neighbours."
https://www.theguardian.com/women-in-leadership/2013/nov/04/women-who-sparked-labour-movement
Sunday 8th July
I will be taking part in a housing, music and poetry event; presenting the poetry of precarity and looking at some home truths, in a positive sense, of working class life. Its a fundraiser for the Grenfell peoples inquiry organised by The Rainbow Collective & Radical Housing Network 1.30- 10.00pm  DIY Space for London  96-108 Ormside Street, SE15 1TF London
exposing the causes of the housing crisis + debunking the myths about immigration and homelessness + learning from our victories
An afternoon of films, discussion, spoken word and music. Bringing together artists and activists from variety of campaigns. Building a community of resistance to overcoming division to fight displacement, dispossession and privatization.
This event is a fundraiser for the People's Inquiry project at Grenfell which is the development of a public archive of accounts and testimonies of the state crimes. It exists to support the processes of justice, not to undermine them and should have the support of reputable charities.
There will also be youth element which will focus on providing a platform for young voices and training them to develop their YouTube channel and their own voice. This project is being run by Dan Renwick the Director of Failed By The State.
https://www.facebook.com/events/464116670695716/
Tickets https://www.eventbrite.com/e/home-truths-at-the-diy-space-tickets-47463741328?ref=eios&aff=eios
And then have a couple deadlines looming for the end of the month so may be taking a bit of time out in poetical editing retreat; it's a dynamic process, shifting between sofa – rewriting or restructuring, desk – making changes on the pc, bed – reading and making changes on the page, lots messy drafts, lots of coffee, rinse, repeat. But given the present hot climes am likely to take some of this outdoors. Note to self: Don't forget to breathe, eat and do yoga! Take a break; Casualty, Poldark, The Hand Maids Tale… GO TO THE PARK!
June 2018
Friday 9th June
Our workshop as part of the Solus and the City project was an immense success and now thrilled to have an opportunity to read poetry of women in the struggle at the all day event as part of this innovative project. It will include songs, poetry and football chants… It takes place at Green Dale Playing Fields, London, SE22 8BB from noon. It's a bit tricky to find. The easiest way to access the shed is via East Dulwich Sainsbury's – 80 Dog Kennel Hill, London SE22 8BB Think of it as an adventure.
This event is part of the Antiuniversity 2018 festival 9-15 June. See the full programme on www.antiuniversity.org
The Solus and the City project is designed by Degenerate Space   exploring how women are expected to provide solidity, structure and sanctuary whilst they paradoxically disproportionately experience unstable positions in housing, work and society. Part of the project consists of the construction of a small Solitude Shed – a structure based on rural mountain bothies – built on an urban site in London.
Accompanying the structure will be a collection of material written from female perspectives exploring themes of solitude, sanctuary, stability and individuality. Degenerate Space write "we invite the public to get together and explore the project and its themes through discussion, writing and traditional women's work songs. Together, we will celebrate the women of the city's past, present and future."
The installation/exhibition will be up throughout the whole of June and is part of The London Festival of Architecture, details here. The LFA is an event which celebrates London as a global hub of architectural experimentation, practice and debate. The festival runs from 1-30 June 2018 with a lively and diverse programme of public events across London this year exploring the them of exploring the theme identity. Full programme https://www.londonfestivalofarchitecture.org/
In addition I will preview a selection of photographs entitled Intervals of  Refuge, that explores visually space as refuge and sanctuary in the urban environment.  To undertake this work I investigated the etymology of the archaic term querencia, derived from the Spanish querer – to wish, want, love, desire, cherish, hence as a verbal noun querencia implies a desired place. The terms refuge and sanctuary suggest semantically a retreat from rather than a retreat to. Yet we actively seek out open space, green space, space in nature as we are part of nature.  In an urban context, spaces exist at the edges of the urban and in the interstices. We can find these spaces if we look for them.
However for women who  have proportionally less income and still bear much of responsibility for child care and other caring responsibilities it is the latter which are more practical, more important to us. And arguably access to spaces of calm, of peace, of tranquility are a therapeutic and spiritual need, not only a pastime but a political act. The struggle to claim them, to use them, at a time when public space is shrinking, the struggle for access to urban space and the urban commons is becoming as relevant as the struggle for housing. The roots of this struggles are ancient, yet in a context of austerity, with hyper gentrification and state led privatization, the very epitome of neo-liberalism these are becoming the struggles of our time.
Saturday 16th June
Reading from 306: Living Under the Shadow of Regeneration and in conversation with Andy Bungay and Colin Crilly, NHS campaigner and Wandsworth Action Against Cuts, on Wandsworth Radio
Tuesday June 19th
Taking in part in this housing event with the Rainbow Collective in Hackney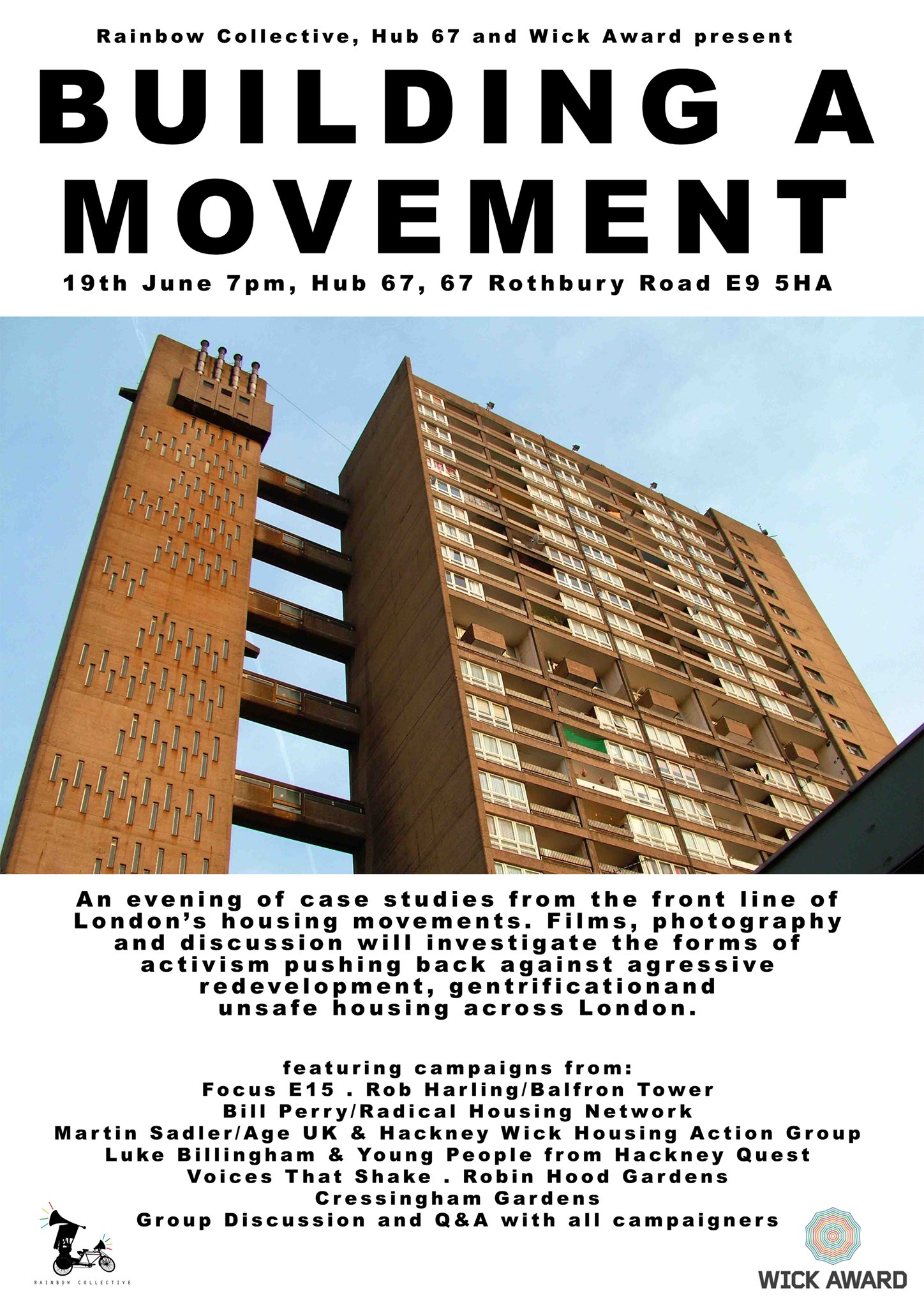 May 2018
Screening of Dispossession: The Great Social Housing Swindle
4th May 
Residents of Cressingham Gardens Estate feature in this film and there will be readings by myself and the residents from the book 306: Living under the shadow of Regeneration at 7.30pm.
Dispossession: The Great Social Housing Swindle explores the agenda behind the neglect, demolition and regeneration of council estates in the U.K. over the past thirty years.The film will be followed by a Q&A with Dispossession director Paul Sng, associate producer Liza McKenzie, barrister Jamie Burton, and myself.
Organised by the Herne Hill Free Film Festival, doors open 7.00pm Cressingham Gardens Rotunda SW2 2QH London
http://www.freefilmfestivals.org/event/dispossession-the-great-social-housing-swindle-2/
20th May
Writing workshop part of SOLUS AND THE CITY
Facilitating a writing workshop as part of the innovative Solus and the City project. The workshop will exploring how different environments influence female / non binary identity, particularly notions of stability – self reliance – safety and solitude and how these are influenced by decreasing public space, precarious working and living conditions, the financialization of leisure and the urban environment.
Solus and the City is a project consisting of the construction of a small 'Solitude Shed' – a structure based on rural mountain bothies built on an urban site in London. Accompanying the structure will be a collection of material written from female perspectives exploring themes of solitude, sanctuary, stability and individuality.
Women are paradoxically expected to provide solidity, structure and sanctuary whilst they disproportionately experience unstable positions in housing, work and society. The shed, complete with writing and a depiction of the building process, will be ready for all to view throughout June as part of London Festival of Architecture 2018.
 Workshop: 2.00–4.00pm Cressingham Gardens Rotunda SW2 2QH London
More info/join/ share https://www.facebook.com/events/2117109715235196/
 25th May 
X Rated: Women Speaking – poetry performance night – Part of the Lambeth Libraries Readers and Writers Festival
Taking part in X-rated. Performers will address themes relating to women at this time. It has been 100 years since the first women were given the right to vote. But after the #metoo revelations how far have we come? Around the world millions of women are still without a voice. Feminist voices are accused of censorship whilst bigots hide behind freedom of speech. It's quite powerful to remember and reflect on what it actually means to be free to speak/vote.
7.00-10.00pm at the Clapham Library, Mary Seacole Centre, 91 Clapham High Street, London SW4 7DB
https://www.eventbrite.com/e/x-rated-women-speaking-poetry-performance-night-tickets-44874138757
https://www.lambeth.gov.uk/sites/default/files/LBL%20Readers%20and%20Writers%20festival%20%202018%20v5%20web%20spreads.pdf
A bit more bio
Born upside down, born blue, 51°57'0″N, 0°16'55″W,  a little after the witching hour, six months before the Cuban missile crisis, guess life was bound to have it bumps. Diagnosed bipolar 34 years later.  Somewhere in between I immersed myself in punk, science fiction and socialism.
I have been an antiwar activist since the Malvinas/Falklands war and was thrust into the world of housing activism following Lambeth Council's unfortunate decision to demolish our homes on Cressingham Gardens.
Grew up in a council house in Stevenage, went to the University of East Anglia leaving with a Ba (Hons) in Development Studies and after some years working in Welfare Rights, graduated with an Ma in Film from The London College of Communication.
Recent endeavors include
A blog style account where I will document a solidarity visit with other trade unionists to Catalonia and reflect on what makes a nation and the nature of and the social forces in the independence movement entitled The Sickle and the Senyera to be launched June 2018 more info
An exhibition at the Portico Gallery, a curated show as part of the Lambeth Open, including work from my Washing Day series October 2017 more info
The publication of 306: Living Under the Shadow of Regeneration June 2017, reissued in September  more info
Review
A small community has now triggered one of the biggest conversations on social housing since Grenfell by Sophia Akram in The Canary
Readings
Contributors to 306 read alongside other special guests at the closing event for Sanctum Ephemeral, an exhibition by by Mark Aitken, part of The Brixton Design Trail,  on Saturday the 23rd September 3.00pm more info
Radio
306 featured on Art Speak hosted by John Flannery in conversation and readings from the book from myself, Sara Adem and Angie Hill broadcast on Soho Radio, www.sohoradiolondon.com Kilburn to Kensal Radio ktokradio.com and Identify Radio www.identifyradio.com  now available on Mixcloud listen here.
more info https://cressinghamvoices.wordpress.com/